Virtual Groups are an extension of the conventional Groups used by FCS .
In Contrast to the inclusive Group-System, that is used by Factline Community Server FCS as default,
which is simmilar to a logical disjuntion (for a more detailed description visit Groups), Virtual Groups are comparable to a logical conjunction. They allow for a even more precise regulation of who will be able to access a fact.
Virtual Groups allow multiple groups to be combined to one single virtual group.
This way the system can ensure, that only Users, that are members of all the groups, that are part of this virtual group, have access to a particular fact.
Explanation by way of Example:
A platform contains two groups:
Group A and Group B.
the same platform also has three users:
User X, User Y and User Z.
User X is a member of Group A.
User Y is a member of Group B.
and
User Z is a member of Group A and Group B.
A fact is published on this platform. But read permissions are only granted to a virtual group A+B consisting of Group A and Group B.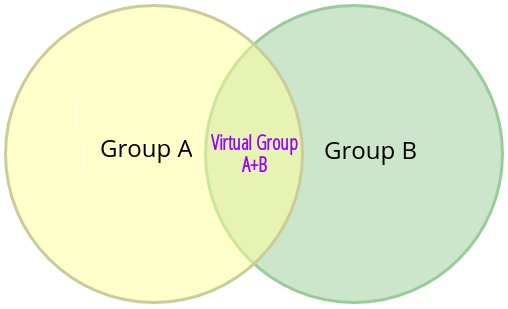 From the three users only User Z will be able to see the fact, since the other two users are only member of one of the groups, that are part of the Virtual group, each.
Creating a Virtual Group:
To create a virtual group click on the "Berechtigungen"(Permissions) Symbol in the top right corner of the create or edit form.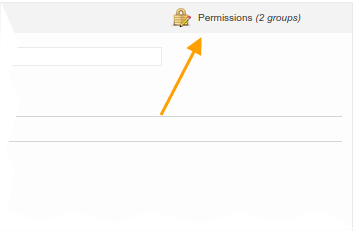 this opens the Permissions-Window: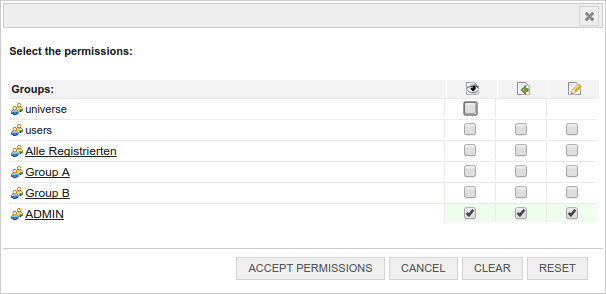 Press and hold the Ctrl-, or Cmd-Key(if you are working on a Mac) and click on the checkbox of the permissions you want to add to the virtual group.
The area around the the checkbox will be highlighted blue.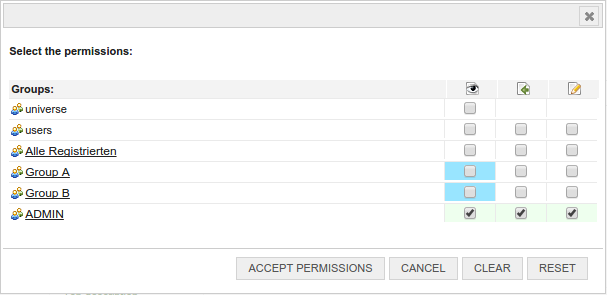 Release the Ctrl- / Cmd-Key.
The chosen Permissions should now be connected by a bracket.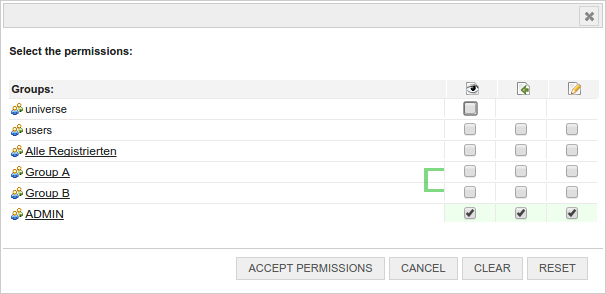 Deleting a Virtual Group:
To delete the virtual groups simply click on the bracket connecting the permissions..
Different Permission-Types are displayed through different line-colours:
| | |
| --- | --- |
| read-permissions | green |
| work-permissions | yellow |
| edit-permissions | red |