In order to create a Europass CV, please proceed as follows:
(1) Choose where to create your Europass:
(a) Open a folder.
Click on "add" next to the folder title and then choose the option

or
(b) Open the service-filing "Europass CV" from the drop-down menu in the options area (left column).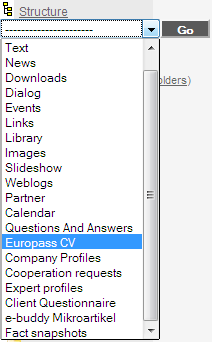 Then click on the "add" button.
(2) Fill-in the name of your Europass CV:

(3) Assign permissions if needed and click on "Publish".
(4) Adding information to your CV:
After creating your Europass CV, you can always add and update the information that represents you - name, contact information, education, working experience, personal skills and competencies, etc . Fill-in the desired categories by clicking on the

- "edit" button or add more details with the

- "add" button. When you are ready, click on "Save".
(5) Exporting the CV to a text fact.
When you add information for the first time in your Europass CV, a message will appear at the top of the page prompting you to publish (export) your CV to a text fact:

Click on "Publish". The text fact will have the same title as your Europass CV.

The exported text fact from your Europass CV will be set with universe permissions - everyone will be able to see it. But access to the Europass CV will have only the users who are work permitted in step (3). All uploaded files (section "Attachments") and images in the CV will also get universe permissions.
After every change which have been made to the Europass CV, the same message will appear again. Just click on "Publish" and a new version to the export fact will be generated automatically, where the changes will immediately take effect.
To view the text fact click on: