The system automatically assigns an factID to every fact created on the platform. The factID of each fact is displayed in the infobox in the Left column - list of boxes and at the bottom of each fact in the Meta information of the facts. The factID allows for clear identification and retrieval of facts. When it comes to creating links, the factID is of utmost importance.


The factID consists of two parts: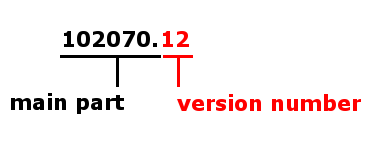 main number:

An automatically created, sequential number combination.

version number:


If you edit a fact, a new version is created. In order to be able to distinguish between versions, a sequential version number is attached to the main number.

For further information on version control, see chapter "Version control system".
| | |
| --- | --- |
| 102070-edit | If you see "-edit " instead of a version number, the document is being worked on and has not been published yet. |
| 102070.0 | In order to link automatically to the most recent version available, type in "0" for verison number (see chapter "Create links"). |


Open facts directly

A fact can be accessed directly by inserting the factID in the address line of the Internet browser window: